Surveying & Engineering
We are providing land & offshore surveying services consists of hydrograpy (bathymetry), oceanography, subbottom / seismics, magnetic and meteorological surveying. We are also making custom fitted positioning system for excavators, dozer, graider, cranes, wheel and crawling equipment, heavy construction machinery, ships, barges, offshore platforms, caisson foundations, pipeline, underwater robots and unmanned surface vessels consisting of electromagnetic, mechanical and acoustics positioning systems. Kordil is eligible and of performing surveying and engineering in geodesy, photogrammetry, geophysics and geology. We call Kordil 'Surveying & Engineering Company' registered in Turkey. Kordil was established in 2009 by a few professionals experienced in international companies with cutting edge reputation worldwide, and we are dedicated to provide a service to you without compromising the quality of service you expect or you get used to. We achieved nonstop grow since than founded.
---
In stock!
We are happy to announce another top grade subbottom profiler system in our evantery awaiting for customers. Edgetech 3400 is a wide band frequency modulation (FM), CHIRP subbottom profiler operating in 2-16 kHz.
EdgeTech 3400 is a subbottom profiler uses EdgeTech's registered Full Spectrum CHIRP technology with Frequency Modulation suitable for most of the offshore construction and research projects with high quality imaging of strata down to 80 meters from the seabed. The system has a ready to use pipeliner mode suitable for surveying pipelines and cable lines with high ping rate.
Futures
Enhanced subbottom PVDF receivers
Subbottom or pipeliner modes
Dual 2-16 kHz CHIRP transducers
Pole-mount and towing (both available)
Digital receiver on towfish with Ethernet telemetry and power
Reduced diameter tow cable
Realtime roll, pitch, heave and depth sensors
Surface echo attenuation
Pulse library tailored for different survey application
Data display in multifrequency bands
Suitable for
Geological and geophysical researches
Environmental research projects
Seabed classifications
Survey for buried pipe and cable lines
Archaeological researches
Mining and dredging
Sediment thickness and sediment mapping
Technical Specifications
Frequency band: 2-16 kHz (CHIRP)
Vertical resolution: 6-10 cm
Penetration: 80 m in clay
Transmitter: Full Spectrum® FM Signal CHIRP
Operation depth: 300 m
In Stock!
Geometrics G-882 Marine Magnetometer is a versatile tool for emergency response instrument for offshore and waters. The system is also suitable for debris cleaning, UXO research, route clearance, detecting ferrous objects in various sizes both buried and located on seabed. Geometrics G-882 is also only magnetometer meets with UXO research standards at North Sea.
Futures & Benefits

Cesium Vapor High Performance – Highest detectionrange and high probability of detecting all sized ferroustargets
Streamlined Design for Tow Safety – Low probability of fouling in fishing lines or rocks. Rugged fiber-wound fiberglass housing.
Sample at up to 20Hz – Unparalleled data density while also covering larger areas per day.
Sensor can be Rotated for Optimal Signal – Can be used worldwide.
Easy Portability and Handling – No winch required. Built-in easy-carry handle. Operable by a single man; only44 lb with 200 ft cable
Combine Multiple Systems for Increased Coverage –Internal CM-221 Mini-counter provides multi-sensor sync and data concatenation, allowing side-by-side coverage which maximizes detection of small targets and reduces noise.
Typical Uses
Detection and mapping of ferrous objects: Ferrous objects of all sizes, such as anchors, chains, cables, pipelines, ballast stones and other scattered shipwreck debris, munitions of all sizes (UXO), aircraft, engines and any other object with a magnetic expression.
Geologic Studies: Characterize the magnetic signature of the Earth over vast distances for geologic studies
Key specifications
Operating principle: Non-radioactive cesium vapor self oscillating split beam
Operating range: 20000-100000 nT
Sample rate: 20 Hz.
Heading error: < 1 nT (over 360 degree spin)
Operating zone: The earths field vector should be at any angle greater than 10 degree from the sensor's equator and greater than 6 degrees away from the sensor's long axis.
Kordil EPS - Ekskavatör Positioning System
Becoming More 3D!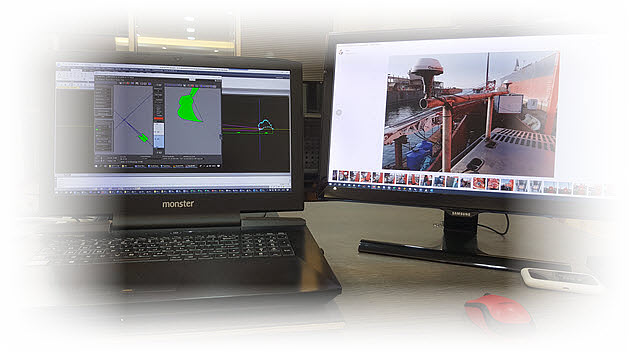 Kordil EPS is gaining 3D capability for data inspection and visualization. Kordil EPS is Turkey's only and most widely used excavator positioning system prefered by most of the offshore construction companies.
Our continuous development in the interface and sensor technologies, made it a versatile tool for offshore industry for wom willing to have a top level precise system at lowest cost. It is now available for third party software integration who is willing to use it in their software that they used to.
Survey Vessel `Coastal Surveyor` is looking for new opportunities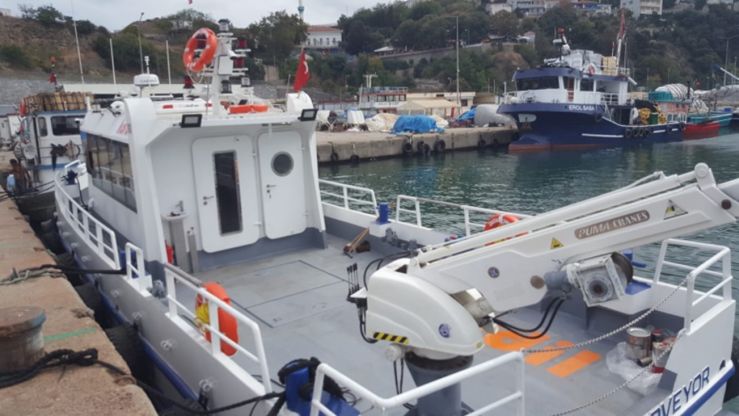 Coastal Surveyor counting down to be launched. The survey vessel was designed to do surveys at near shore and even in offshore. During construction process, everything is designed for surveyors and survey teams, in terms of speed, maneuverability, cable routes, daily basis installations, antenna and radio poles, free cable inlets, heating, and cooling. The vessel was equipped with to do all kinds of offshore, near shore and surf zone surveys. Designed by surveyors for surveyors.
Norah - Hydrographic Survey Vessel Arrived from Iraq
Norah is a versatile hydrographic survey vessel suitable for construction and coastal surveys.